Graphic Overlays are labels that are aesthetically designed to enhance the appearance of your product, made of various materials, incorporated with ergonomic enhancements, and profiled, formed, and shaped to add a third dimension to your product. Decals are designed using specialty vinyls for automotive applications with extended outdoor life. Signage is designed with the use of signs and symbols to communicate both in public and indoor spaces.
Protolab uses a wide range of materials and adhesives to provide Graphic Overlay solutions for Decals and Signage for all applications. We can provide the ideal solution for any industrial sector or application, ensuring customers' satisfaction and user delight.
Substrates:
Protolab believes in using the finest Polycarbonates, Polyester, Polymers, Acrylic, Adhesives, and Conductive pastes, all are RoHS compliant and UL standards or its equivalents.
Polyester and Polycarbonate are the two basic substrates used most frequently for graphic overlays and its variants with specifications suited to basic thru harsh environments.
Colour and Texture:
Select from the Protolab color shade card system which matches to the PANTONE and RAL colour shade systems. To further enhance the visual cosmetics, select from Gloss or Matte UV Textured finishes and special effects.
Backlighting, LEDs & LCD Windows:
Because most graphic overlay materials are transparent, it is feasible to include backlighting and display components. It can be treated for Clear transparency for use with LCDs / Displays / LEDs or Filtered transparent in Red, Green, Amber, Yellow, Violet, and Smoke Grey for use with LEDs with Selective Hard Coat and Anti-Glare finish.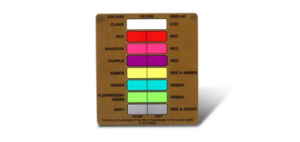 Dead Front Panels:
Are secret-till-lit panels which are blank until they are lit. Electro luminescent panels can also be incorporated for the same. By enabling you to display what you want, when you want, we can improve your user experience by using dead front graphics. Dead front graphics, once illuminated, may give the user more information while allowing them more creative options.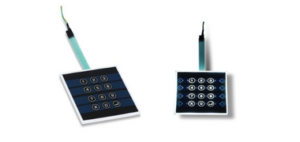 Interchangeable Legends:
Where pre-printed information cannot be included in the Graphic layers a series of pockets can be engineered to accept additional legend strips thus making the panels very user definable and friendly.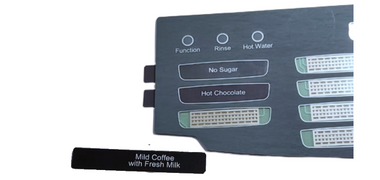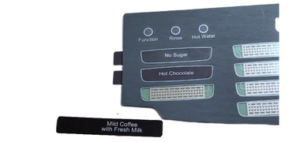 Rim, Pad, Braille, 3D types of Embossing:
Embossing, a third dimension can be added to any part of the panel. PAD type gives a conventional panel appearance usually having tactile feedback and RIM type raises the entire edge of the switch ensuring better location and contact.
Braille Is a system of raised dots that can be read with the fingers of people who are visually impaired or who have low vision. Similarly various solutions are designed for the challenged.
Protolab also provides DOMING solutions to give the graphic overlays the 3D effect.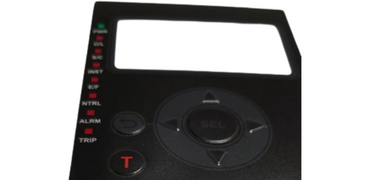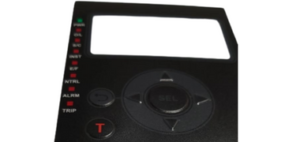 Adhesives:
Protolab uses multi-brand adhesives as per application specifies and procures them from manufacturers only ensuring support and reliability.
Protolab uses various mounting as spacer & levelling of various thicknesses tapes with ranging from 25 microns-1000 microns. It has also an in-house screen gumming facility meeting customer specifications both solvent and UV cured adhesives.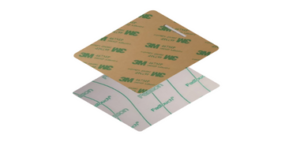 How do you select substrate material for your application and why is it necessary?
When choosing a material for your graphic overlay between Polyester, Polycarbonate, Acrylic, Polymer or various options, keep durability, environmental considerations, design requirements, aesthetic preferences and importantly the user whilst considering the same.
High-quality materials must be prioritized in various applications, such as medical facilities, public utilities, gasoline pumps, military uses, etc.
If you're still unsure about which material is appropriate for your application, our Engineering team can assist you. Protolab is a pioneer in graphic overlay design and development, integrating material knowledge with state of art converting and printing capabilities.
Comparison between Polyester and Polycarbonate material:
| | | |
| --- | --- | --- |
| PARTICULARS | POLYESTER FILM | POLYCARBONATE FILM |
| Durability | It is more resistant and long-lasting | It is not durable or long-lasting. |
| Chemical resistance | It is chemical resistance material | It is chemical resistance material to some extant |
| Texture | Touch, Fine, Velvet texture | Gloss and Velvet texture |
| Thickness | 150, 200, and 280 microns | 125, 175, 250, 500, 750, 1000, 1500 micron |
| Observance | This primer provides great adherence to a wide range of solvent-based graphic inks. | Without primer coating for ink adhesion |
| Flexibility | Polyester could be a textured, polyester film designed for applications demanding flexibility as well as strong abrasion and solvent resistance, such as embossed membrane switches. | In comparison to polyester film, polycarbonate film is less flexible. The material may expand to some extent; however, it will fracture from the emboss region in extremely hot or cold temperatures. |
| Applications | The term XE stands for Extended UV protection and the material is commonly utilised as a substrate for instrument, fascia, and membrane switch panels used for outdoor or severe industrial environments. | Polycarbonate overlay, keypads, keyboards are used in room temperature applications. |
| Switch Life  | 5 million actuations minimum | 5 Lakhs actuations minimum |
We trust you found the content interesting. Please share your thoughts in the comments section by getting in touch with us at www.protolab.in or emailing your queries and your requirements to contact@protolab.in.